Kiwi's Academy
Summer time has never been so fun and educational at Kiwi's Clubhouse!

Summer 2023 schedule is updated below!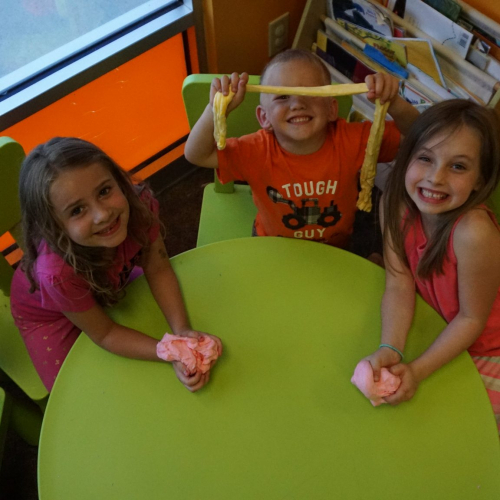 Gahanna / Olentangy / Hilliard / Pickerington
Gahanna / Olentangy / Hilliard / Pickerington
June 5– 9

Little Linguists

¡Bienvenidos! ¿Habla Espanol? The Spanish language and culture will come to life through songs, stories, games and crafts! Parents will be invited to join the class on Friday for a Fiesta!

June 12 – 16

Little Paleontologists*

(Formerly Jurassic Art) Travel back in time to when dinosaurs ruled the earth! Children will learn about bones, tracks, volcanoes and create a salt dough fossil. This camp will be an adventure every day! *Available for WeeCamp

June 19 – 23

Little Veterinarians

Calling all animal lovers! Come learn how to take care of your favorite furry, flying, and fishy friends. Through hands on activities, children will learn how to perform CPR on dogs, use a stethoscope and read a radiograph!

June 26 – 30

Little Community Heroes*

Not all heroes wear capes and the real heroes of our community are all around us! Join us as our lil' heroes explore what it is like to be a police officer, a firefighter, a teacher and more. These heroes make our community the great place it is and exploring their work through dramatic play, art, stories and songs is going to be a blast! Some special community guests will be stopping by! *Available for WeeCamp

July 10 – 14

Little Picassos*

Explore the world of art through many different mediums! Our lil' Picassos will not only learn about great artists and their work, but get to create their own masterpieces. As Picasso himself said "All children are artists" and we can't wait for your little artist to join in our fun! *Available for WeeCamp

July 17 – 21

Little Chefs

Children will explore food through fun recipes and simple cooking techniques while learning about nutrition and healthy food choices. All little chefs will get to decorate their very own chef hat and taste all of their culinary creations!
**We are nut-free center and we can accommodate ONLY and ALL nut allergies. If children have gluten or dairy sensitivity, they are encouraged to participate but cannot taste**

July 24 – 28

Little Ocean Explorers*

Little Ocean Explorers – (Formerly Under the Sea) Let's get "art-sea"! We will dive into the amazing world of marine life while creating ocean themed art using an array of art techniques. Campers will create mixed media art that will be fun and engaging as they learn about ocean habitats. *Available for WeeCamp

July 31 – Aug 4

Little Physicians

Explore the roles of medical professionals in this Mini Med School! Children will use stuffed animal patients to take blood pressure, give "stitches", put on a cast, and make their own first aid kit.
Upper Arlington
Upper Arlington
June 5 – 9

Aloha Summer*

Greet the summer with a week of island fun! Children will participate in sand art, limbo, wacky relays, try tropical foods and jam to island music. Parents are invited to a Luau on Friday!  *Available for WeeCamp

June 12–16:

Little Chefs

Children will explore food through fun recipes and simple cooking techniques while learning about nutrition and healthy food choices. All little chefs will get to decorate their very own chef hat and taste all of their culinary creations! **We are nut-free center and we can accommodate ONLY and ALL nut allergies. If children have gluten or dairy sensitivity, they are encouraged to participate but cannot taste**

June 19–23:

Jurassic Art*

Travel back in time to when dinosaurs ruled the earth! Children will learn about bones, tracks, volcanoes and create a salt dough fossil. This camp will be an adventure every day!
*Available for WeeCamp

June 26–30:

Little Community Heroes

Not all heroes wear capes and the real heroes of our community are all around us! Join us as our lil' heroes explore what it is like to be a police officer, a firefighter, a teacher and more. These heroes make our community the great place it is and exploring their work through dramatic play, art, stories and songs is going to be a blast! Some special community guests will be stopping by!

July 10–14:

Music Camp *

Let's make some music and groove to it too! In this session we will explore music through song, dance and instruments. Parents will be invited to a showcase on the Friday of that session! *Available for WeeCamp

July 17 – 21:

Superhero STEM

Kapow! Bang! Splat! What could be cooler than learning the Science – Technology – Engineering – Math (STEM) behind Superheroes? In this session, children will explore famous Superheroes special powers and how they work. Costumes are encouraged!

July 24 – 28:

Pirate Camp

Ahoy matey! Join our crew as we set sail across the ocean to find out whatit's like to live as a pirate. Search for hidden treasure, make an eye patch, and walk the plank. Aaargh you ready for a good time?

July 31 – August 4:

Little Astronauts*

 Join us for a week of fun and adventure as we explore space and the astronauts who make it their home! Children will have a "blast" learning about stars, moon, plants, and space travel. Parents will be invited to a rocket launch on Friday. It will be "out of this world!"
*Available for WeeCamp