Kiwi's Academy makes Summer Camp fun and educational!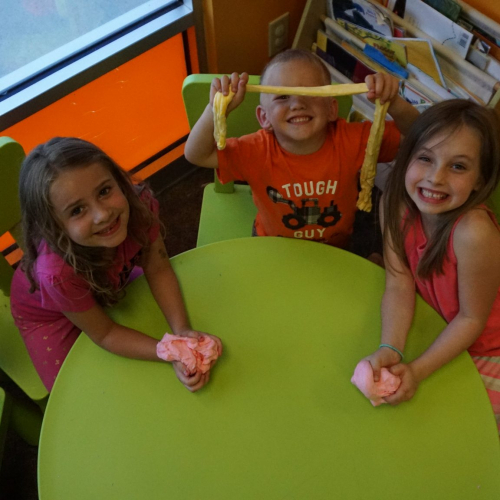 Polaris, Gahanna & Lewis Center Kiwi's Academy Schedule
Our Polaris, Gahanna & Lewis Center Clubhouses are ready to add a ton of fun to Summer.
June 3rd – 7th

Aloha Summer

Greet the summer with a week of island fun! Children will participate in sand art, limbo, wacky relays, try tropical foods and jam to island music. Wear a Hawaiian shirt to the Luau on Friday that parents are invited to!

*Available for WeeCamp

June 10th – 14th

Little Linguists

¡Bienvenidos! ¿Habla Espanol? The Spanish language and culture will come to life through songs, stories, games and crafts! Parents will be invited to join the class on Friday for a Fiesta!

*Available for WeeCamp

June 17th – 21st

Superhero STEM (Science Technology Engineering Math)

Kapow! Bang! Splat! What could be cooler than learning the Science – Technology – Engineering – Math (STEM) behind Superheroes? In this session, children will explore famous Superheroes special powers and how they work. Costumes are encouraged!
June 24th – 28th

Little Physicians

Explore the roles of medical professionals in this Mini Med School! Children will use stuffed animal patients to take blood pressure, give "stitches", put on a cast, and make their own first aid kit.
July 8th – 12th

Jurassic Art

Travel back in time to when dinosaurs ruled the earth! Children will learn about bones, tracks, volcanoes and create a salt dough fossil. This camp will be an adventure every day!

*Available for WeeCamp

July 15th – 19th

Little Chefs

Children will explore food through fun recipes and simple cooking techniques while learning about nutrition and healthy food choices. All little chefs will get to decorate their very own chef hat and taste all of their culinary creations!

**We are nut-free center and we can accommodate ONLY and ALL nut allergies. If children have gluten or dairy sensitivity, they are encouraged to participate but cannot taste**

July 22nd – 26th

Little Veterinarians

Calling all animal lovers! Come learn how to take care of your favorite furry, flying, and fishy friends. Through hands on activities, children will learn how to perform CPR on dogs, use a stethoscope and read a radiograph!

*Available for WeeCamp

July 29th – Aug 2nd

Kiwi's Got Talent

Join us for a week of self-discovery as children explore their talents through games, crafts, singing, performing skits and creating the next thingamajig! The week will conclude with a Talent Show that parents are invited to!
August 5th – 9th

Little Astronauts

Join us for a week of fun and adventure as we explore space and the astronauts who make it their home! Children will have a "blast" learning about stars, moon, plants, and space travel. Parents will be invited to a rocket launch on Friday. It will be "out of this world!"
Upper Arlington Kiwi's Academy Schedule
It's going to be one hot Summer at the Upper Arlington Clubhouse!
June 3rd – 7th

Aloha Summer

Greet the summer with a week of island fun! Children will participate in sand art, limbo, wacky relays, try tropical foods and jam to island music. Wear a Hawaiian shirt to the Luau on Friday that parents are invited to!

*Available for WeeCamp

June 10th – 14th

Superhero STEM (Science Technology Engineering Math)

Kapow! Bang! Splat! What could be cooler than learning the Science – Technology – Engineering – Math (STEM) behind Superheroes? In this session, children will explore famous Superheroes special powers and how they work. Costumes are encouraged!
June 17th – 21st

Jurassic Art

Travel back in time to when dinosaurs ruled the earth! Children will learn about bones, tracks, volcanoes and create a salt dough fossil. This camp will be an adventure every day!

*Available for WeeCamp

June 24th – 28th

Kiwi's Got Talent

Join us for a week of self-discovery as children explore their talents through games, crafts, singing, performing skits and creating the next thingamajig! The week will conclude with a Talent Show that parents are invited to!
August 5th – 9th

Little Chefs

Children will explore food through fun recipes and simple cooking techniques while learning about nutrition and healthy food choices. All little chefs will get to decorate their very own chef hat and taste all of their culinary creations!

**We are nut-free center and we can accommodate ONLY and ALL nut allergies. If children have gluten or dairy sensitivity, they are encouraged to participate but cannot taste**

August 12th – 16th

Little Veterinarians

Calling all animal lovers! Come learn how to take care of your favorite furry, flying, and fishy friends. Through hands on activities, children will learn how to perform CPR on dogs, use a stethoscope and read a radiograph!

*Available for WeeCamp