Kiwi's Academy makes Summer Camp fun and educational!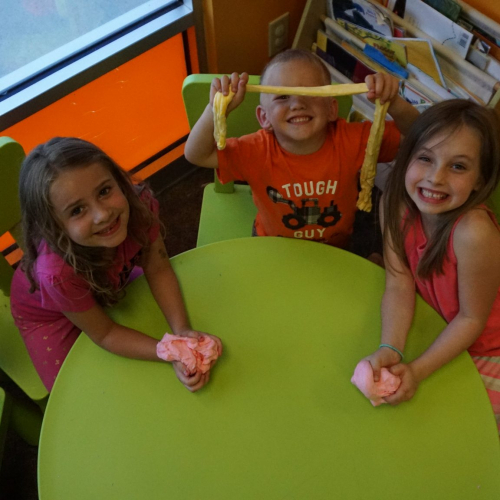 Gahanna and Polaris Kiwi's Academy Schedule
Our Gahanna and Polaris Clubhouses are ready to add a ton of fun to Summer.
June 4th – 8th

Little Physicians

Explore the roles of medical professionals in our Mini Med School! Children will use stuffed animal "patients" to take blood pressure, put on a cast, and give "stitches." They'll even create their own first aid kits!
June 11th – 15th

Little Linguists (Special WeeCamp Session at the Gahanna Kiwi's Academy!)

¡Bienvenidos! ¿Habla Espanol? The Spanish language and culture will come to life through songs, stories, games and crafts! Parents will be invited to join the class on Friday for a Fiesta!
June 18th – 22nd

Superhero STEM (Science Technology Engineering Math)

 Kapow! Bang! Splat! What could be cooler than learning the Science – Technology – Engineering – Math (STEM) behind Superheroes? In this session, children will explore famous Superheroes' special powers and how they work. Costumes are encouraged!
June 25th – 29th

Jurassic Art (Special WeeCamp Session at the Gahanna Kiwi's Academy!)

Gahanna Jurassic Art Full – Wee Camp Still Open

Travel back in time to when Dinosaurs ruled the earth! Uncover fossils and learn about bones, create dino eggs and cave paintings. This camp will be an adventure every day!
July 9th – 13th

Little Engineers

The sky is the limit! Build and break, make and demolish – it's fun to explore the science and art of engineering! Using your favorite building bricks, real world materials and recyclables, our creations are only limited to our imaginations!
July 16th – 20th

Little Veterinarians (Special Wee Camp Session at the Gahanna Kiwi's Academy!)

Gahanna Little Veterinarians Full – Wee Camp Still Open

Calling all animal lovers! Come learn how to take care of your favorite furry, flying and fishy friends. Through hands-on activities, children will learn how to perform CPR on dogs, use a stethoscope, read a radiograph and much more.
July 23rd – 27th

Little Astronauts

Gahanna Little Astronauts Full/Registration Closed

Join us for a week of fun and adventure as we explore space and the astronauts who make it their home. Children will have a "blast" learning about stars, the moon, planets and space travel. Parents will be invited to a rocket launch on Friday. It will be "out of this world!"
July 30th – Aug 3rd

Dolls and Deportment

Grab your favorite doll or stuffed friend for this fun session of crafts, songs, stories and manners! Our little ladies and gentlemen will have a smashing good time learning about etiquette with their favorite friend. Parents will be cordially invited to a special Tea Party that Friday. RSVP today!
August 6th – 10th

Terrific Textiles

Children will create and connect with the world of textiles during this interactive week of camp. Learn how to dye fabric, weave on a cardboard loom, practice simple sewing and much more!
Upper Arlington Kiwi's Academy Schedule
It's going to be one hot Summer at the Upper Arlington Clubhouse!
June 4th – 8th

A Pirate's Life for Me (Special WeeCamp Session!)

Ahoy Matey! Join our crew as we set sail across the ocean to find out what it's like to live as a pirate. Search for hidden treasure, make an eye patch, and walk the plank. Aaargh you ready for a good time?
June 11th – 15th

Theater (Special WeeCamp Session!)

All the world is a stage! We all know young children have a tendency to be dramatic, so let's not just save the drama for mama, join us for Theater! Children will explore what it takes to put on a production – from scripts, to sets and costumes! Parents will be invited to attend a special production on Friday!
June 18th – 22nd

Mini Musicians (Special WeeCamp Session!)

Through singing, moving, and playing instruments, children will be introduced to basic music principles and expression. This session is a great way for children to explore creative ways to have fun and help develop a life-long love for music and learning. Parents will be invited to a showcase on Friday that is sure to be a treat for the ears!
June 25th – 29th

Superhero STEM (Science Technology Engineering Math)

 Kapow! Bang! Splat! What could be cooler than learning the Science – Technology – Engineering – Math (STEM) behind Superheroes? In this session, children will explore famous Superheroes' special powers and how they work. Costumes are encouraged!
July 30th

August 3rd Little Veterinarians (Special WeeCamp Session!)

Calling all animal lovers! Come learn how to take care of your favorite furry, flying and fishy friends. Through hands-on activities, children will learn how to perform CPR on dogs, use a stethoscope, read a radiograph and much more.
Aug 6th – 10th

Little Astronauts

Join us for a week of fun and adventure as we explore space and the astronauts who make it their home. Children will have a "blast" learning about stars, the moon, planets and space travel. Parents will be invited to a rocket launch on Friday. It will be "out of this world!"